My Day officially started at 4:30 am (my alarm was set for 5:15 am) with the need to pee. After that I couldn't fall back to sleep, so I just laid there, waiting to get up. I finally crawled out of bed at 5:15, brushed my teeth and threw my clothes on, and hopped in my car to go pick up Andi and her mom to head to the metro station and into DC for the Susan G. Komen Race for the Cure 5k. Once we got to the mall (if you live in the DC area you know I am referring to the greens in front of the Smithsonian, and not a shopping mall!), we met up with the rest of our team. I will hopefully have a pic soon of our team to share… I didn't bring my camera since it would be one more thing to carry. Our team consisted of myself, Kate and her husband (Kate and I had a good laugh about our husbands running circles around us, literally!) , Sarah (who by the way I think is one of the happiest and cutest people I have ever met!), Jenny (who is adorable, and so nice! I met her for the first time today and love her already!), and of course, Andi. We got to chat for a bit before we headed to the start line. At that moment, I knew I was going to do it again next year, and hopefully with the same crew plus some!
Andi and I had planned to run together since we knew we were pretty similar in pace. We put ourselves in the 10 minute mile grouping. I don't yet know the actual results since the time per runner starts when your chip crosses the start line. I will let you know as soon as I know! But what I do know is that I have the best running mare in Andi. We were perfectly paired for a good pace. Oh, and have I mentioned that the weather was phenomenal! It was perfect- sunny, but somewhat cool and dry. The course was pretty easy, too; it was flat with only one hill. We made our last turn, and we saw the finish line. Andi looked at me and said, "Ready?" I shouted, "Yes!" and we took off, crossing the line together! It was Andi's first 5k, and I am so proud of her! She did an awesome job. We unfortunately had to skedaddle after that…. I had to get to our last T-ball game, especially since I coached, and Andi needed to get her daughter to her dance recital.
So though we ran and dashed off, it was a beautiful experience. Being side by side with one of my closest friends as she crosser her first finish line was something. But seeing all of the shirts, "In memory of… ", "In celebration of… (for survivors)", was so emotional. There was a man who was running who had lost 3 sisters to breast cancer. I can't even imagine how horrible that feels. I was thankful I brough sunglasses because these things tend to make me very emotional, and I teared up a few times reading the shirts and seeing all the people out there racing and pushing themselves for those who are fighting and pushing in a different way. If you ever get the chance to do it, do it. Don't question it. You can walk, you can run, you can go as fast or as slow as you need to. But the point is, you are out there doing it with purpose. There is no greater feeling than knowing that you are helping others.
Also, think about yourselves and your own health. Stay healthy and eat right as a preventative measure. Exercise. Perform regular self checks. I don't ever want to have someone running that race in memory of me. Especially my own kids. So just think about that and do what you can to take care of you now.
After the race and T-ball game, Chris and I were very motivated to work on our house since the weather was beautiful…. I cleaned up the deck, shutters, shed, and the kids outdoor toys. Chris cleaned our windows, and cleaned out our gutters. I just finally took a shower after that long and sweaty, dirty day, and it felt amazing! It was a busy day, but productive, inspirational, and fun! Andi and I are looking forward to running again next year, as I know many of the others have said they will as well. Will you join us?
Now let's get to some pictures and POWW faves, huh? You can't have a blog post without eye candy!
I love this adorable side table that my pal Shaunna at Perfectly Imperfect painted with chalk paint. The color she achieved is beautiful!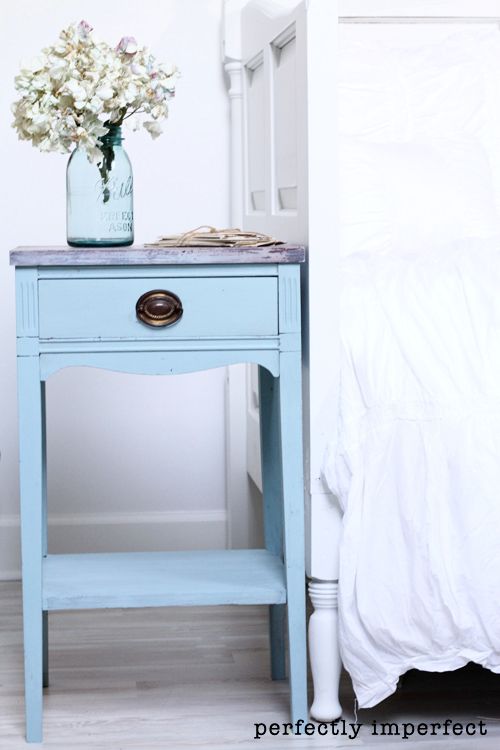 Pin
My jaw dropped when I saw this piece from Erin at Richmond Thrifter because I have been on the hunt for a piece like it to paint in almost the exact same color!!!!! And seeing this piece confirms that I need to do it. It looks AMAZING!!!

Pin
This sideboard from Light of the Home is just stunning! I love the color, the wood top, pretty much everything about it.

Pin
And last but not least, I am loving Sharon from Elizabeth & Co's sunny yellow coffee table. I love the way it works with all the greens of the setting… it looks so fresh and happy!

Pin
Alright folks! Enjoy the rest of your weekend!!! Tomorrow is spin class, a delivery, and a bowling birthday party! Another busy day…. it actualyl makes me look forward to Monday when Emmy and I can just bum around for a bit! 🙂